Uri Attack: 17 Soldiers Killed & 30 Injured In An Attack On An Indian Army Base, Black Day For India
In a most deadly attack in recent years, we lost 17 of our soldiers. The militants attacked an Indian Army brigade situated in Uri, Jammu and Kashmir.
Four militants were also killed during the combat. The attacked happened around 5:30 am in the morning near the line of control with Pakistan, militants breached the perimeter fence to enter the camp. Around 30 soldiers have been injured seriously in the attack. The injured have been brought to army base hospital in Srinagar.
Northern Command tweeted-
View image on Twitter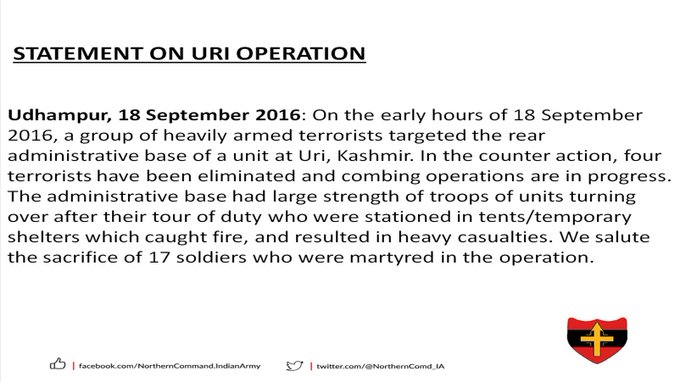 NorthernComd.IA

@NorthernComd_IA

#JKOps Please find a statement attached on the operation at Uri in J&K @adgpi

475475 Retweets

206206 likes
This is a second attack on our army base after Pathankot.
Defence Minister Manohar Parriker and Army Chief will visit Srinagar in wake of the terror attack.
We salute the martyr and our heartfelt condolences to the families of the soldiers who lost their lives.